Snake Davis - Talking Bird
Welcome to the latest issue of Denis Poole's Secret Garden, the page that offers a British perspective on the very best from the world of smooth jazz and classic soul. Saxophonist Snake Davis has long been the UK's leading exponent of contemporary jazz and pop tinged R & B. His recording credits are almost too numerous to mention but include sessions with M-People, Lisa Stansfield, Ray Charles, Tom Jones, Culture Club, Hamish Stuart, George Michael, Tina Turner, Cher, Kylie Minogue, Paul McCartney, Swing Out Sister, Dave Stewart, Paul Young, Pet-Shop Boys and Robert Palmer. Both with his own band and as a solo performer Davis makes hundreds of appearances every year and has also toured with soul legends Edwin Starr, Rose Royce, Sister Sledge, Tavares, Odyssey, The Three Degrees, Mary Wells, Ruby Turner, Martha Reeves and Eddie Holman. A perpetual 'go to guy' for recordings by both Acoustic Alchemy and Paul Hardcastle, Davis is now reigniting his own solo career with the brand new CD Talking Bird.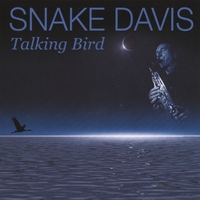 His 2001 debut Snakebites promised much and when Hysteria followed two years later it seemed only a matter of time before Davis would break through into the mainstream. Although five years have since elapsed, it is obvious from the very first notes of the album's opening title cut that the wait has been worthwhile. This fulsome smooth jazz anthem flows like a river and in similar vein is the soulful, horn driven 'Harlem Stroll'. Reminiscent of his playing on Acoustic Alchemy's 'The Detroit Shuffle' it is a contender for the album's best track yet in truth standouts abound. 'KikBak', with its funky edge and killer beat, is a wonderful example of sophisticated contemporary jazz while 'Refuge' features more of that big trademark Snake Davis sound. When he switches to flute for 'Cross The Line' the outcome is intense, complex but always interesting.
'Day Of The Snake' finds Davis showing off his jazzier side whereas in complete contrast is the outstanding beauty of the bluesy 'Dreaming On'. This chilled out smoker includes excellent guitar from Mark Cresswell and when Davis blends a warm soulful groove with zesty world rhythms the result is the captivating 'Dragonfly'.
The final touches to Talking Bird were applied in late 2007 as Davis toured Japan with Eikiche Yazawa. Consequently it's no surprise that an oriental feel permeates much of the collection. The stunningly deconstructed 'Naima' is a case in point while even better is 'Fuji-sighting'. This intoxicatingly mellow number is an absolute joy and another Secret Garden favorite is 'Shiro Sunset'. Here the violins of Veronika Novotna create a melancholy vibe that Davis carries on with his sublimely tender playing.
Recorded during 2007 in Lancashire, Buckinghamshire and Tokyo Talking Bird was released in the UK on February 4, 2008. Complemented by excellent support from Paul Birchall on keys, Bryan Hargreaves on drums, Neil Fairclough on bass guitar and Dave Bowie with double bass, it is Snake's best album to date and deserves to get him noticed.
For more go to www.snakedavis.com
Do you have any comments on what you have found in this edition of the Secret Garden? If so please contact the Smooth Jazz Vibes Guest Book or e-mail me on DenisPoole2000@Yahoo.com.
Posted by Denis Poole at February 17, 2008 9:31 AM