Frank Felix And The FU Express - Tales From The Funky Underground
Welcome to the latest issue of Denis Poole's Secret Garden, the page that offers a British perspective on the very best from the world of smooth jazz and classic soul. An assault is about to take place and the assailant is none other than the multi talented Frank Felix. In the company of his FU Express he is all set to challenge the supremacy enjoyed by Down To The Bone as the leading UK exponent of good old fashioned of 'in your face' funk. It's a brand of music that came out of the acid jazz movement which was prevalent in the UK during the early 90's and, if this debut album from Felix, Tales From The Funky Underground is meant as a tilt at Down To The Bone's crown, then it promises to be very much a bloodless coup. In fact DTTB keyboard player Neil Cowley plays a significant part throughout and in doing so is joined by a stellar gathering of guest musicians including the UK's pre-emanate contemporary jazz saxophonist Snake Davis.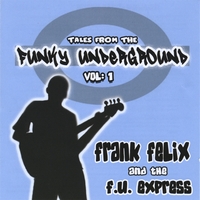 Many will know Felix as the long-time bass player with Acoustic Alchemy. He left the band early in 2007 and now, with his own 'FU Express', which includes a full and feisty horn section, he has produced an album that is all about the groove. Its mood is perfectly exemplified by the storming 'FU Express' for which the FU horns are massive and where ex Acoustic Alchemy band-mate Miles Gilderdale drops in to play guitar. In fact Gilderdale returns often and really rocks on the raucous 'Mr D' where Davis on sax also blows up a storm. 'Move Witcha' is another high octane funkathon while the hugely intense 'Los Galacticos Hustle' is what might be termed 'mardi gras ready'. Here Snake Davis again looms large with his instantly recognizable sax and when, for 'Work It', he returns in the company of Gilderdale and Cowley, they together produce a rhythm drenched steamer.
The raw power of Tales From The Funky Underground is such that when, in relative terms, Felix chooses to turn it down the effect is instantly pleasing. The smooth vibe engendered by 'A Cosmic Love Song' is a delight. Blessed by a fine guitar solo from Miles Gilderdale it is an extremely edgy a slice of contemporary jazz while 'Crazy' owes its melodic groove to wonderful contributions on guitar, organ, electric piano and clavinet from Jes Platt.
Still, after all that, Tales From The Funky Underground, and Frank Felix, is all about the funk. The tracks 'Sugarfoot' and 'Fatback Avenue' merge with others such as 'Waditz' and ''Club 44' to maintain the intensity at 'funk factor 6'. With top notch performances from Billy Mclean on trombone, Farris Holder on trumpet and old Acoustic Alchemy pals Eddie M on alto sax, Jeff Kashiwa on tenor sax and Fred White on trumpet, the combination makes Tales From The Funky Underground an album with which to party.
For more on Frank Felix go to www.frank-felix.com
Do you have any comments on what you have found in this edition of the Secret Garden? If so please contact the Smooth Jazz Vibes Guest Book or e-mail me on DenisPoole2000@Yahoo.com.
Posted by Denis Poole at May 31, 2008 6:18 PM