What We're Listening To ** October
B R I A N * S O E R G E L
Dave Koz, Greatest Hits (Capitol): Four new songs make this CD worth your collection, and the best is the new smooth jazz single "Life in the Fast Lane."
Tom Grant, Life Is Good (NuWrinkle): The veteran pianist returns with his first new smooth jazz collection in years that reminds you how much he's been missed.
The Millennium Promise Jazz Project feat. Kirk Whalum, Promises Made (Koch): This benefit for Africans in need of survival tools is led by Kirk Whalum, with assists from Earl Klugh and George Duke. Familiar tunes include "Stand By Me," "Eleanor Rigby" and "What's Going On."
Milton Nascimento Jobim Trio, Novas Bossas (Blue Note): A must-have for lovers of the Brazilian icon with the sweet voice, featuring Daniel Jobim, Paulo Braga, Paulo Jobim and Rodrigo Villa.
Toninho Horta, To Jobim With Love (Resonance): An all-star cast, including Bob Mintzer, Gal Costa and Gary Peacok, join guitarist Toninho Horta for this swinging set.
J E F F * D A N I E L S
Buddy Rich & the Big Band Machine, Speak No Evil (Wounded Bird Records) (2008)
Fourplay, Energy (Heads Up) (2008)
Gerald Albright, Sax for Stax (Peak Records) (2008)
Michael Ray Tyler, Grazing The Land  (2008)
Craig Pilo, Just Play  (Rue De La Harpe) (2007
P E T E R * B O E H I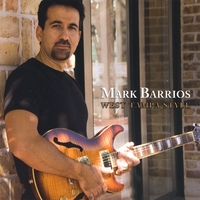 Mark Barrios - West Tampa Style (2008)
Cool and groovy latin jazz guitar player reminding me of Carlos Santana in parts, but definitely in a laid-back smooth jazz setting. Every track is a winner!
Roger Smith - Sittin' In (2008)
Keyboardist Roger Smith delivers an outstanding album full of groovy urban tracks and top-notch keyboard playing, excellently recorded and produced. Thumbs up!
Sekou Bunch - The Next Level (2008)
This is album by bassist Sekou Bunch boasts great guest artists (Stanley Clarke, George Duke, Sheila E, Everette Harp and others) and artistry on the highest level, the cover of Ramsey's "Sun Goddess" is a winner. Very recommended!
Nick Colionne - No Limits (2008)
This guitarist can do no wrong. His latest release is another gem full of great songs and guitar playing, his song "Melting Into You" is a future classic. What a talent!
Kenny Pore - Inner City Dreams (1984), You Don't Know Me (1985), At This Moment (1987)
Going back in time, this guitarist and composer/producer delivered a string of albums in the 80ies that are classics of the genre. By employing the best LA session players the results are simply outstanding, especially the heart wrenching sax solos of Brandon Fields are a treat. The records were re-released on the Sessions Vol. 1 & 2 CD which have gone out of print in the meantime. Magical moments!
Posted by Peter Böhi at October 31, 2008 2:17 PM