Russ Hewitt -- Bajo el Sol
Bajo el Sol (translation" Under the Sun"), the debut album from guitarist Russ Hewitt is an offering that contains some of the most colorful, vibrant, and exotic Latin/flamenco-style smooth jazz found on any shore. Hewitt, an obviously brilliant and skilled guitarist whose touch is quite reminiscent of the brilliance of the renowned world fusion/flamenco/jazz guitar duo Strunz and Farah, has a very fluid technique that takes charge early on and serenades us exotically and seductively throughout with catchy tunes like, among others, the opening and title track, "Lydia," "Palma De Mallorca," "Simatai" ("View From the Great Wall"), and "Ojos Bonito" – one of my favorites. This young man clearly has a love affair with effective hooks, substantive scale work, and overall well-conceived compositions, all of which he handles magnificently.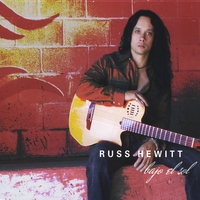 Being one who is quite partial to well-played and well-produced Latin music, this project does no harm whatsoever to my perception of where and how this type of Latin music fits into the scheme of smooth jazz. Home is where the heart is, and many a smooth jazz heart will surely welcome this album.
The artist took great care to isolate and accentuate each note of a riff or chord in a crystal clear manner that beckons you to the shores of whatever island or Latin American country may happen to call to you with the enveloping embrace of each selection.
Hewitt has surrounded himself with very competent support, as well, to help polish Bajo el Sol. For example, there are members from Santana, Strunz and Farah—which is evident—Miami Sound Machine, Ricky Martin, and Shakira. Combined with Hewitt's full sense of what he's creating here, the added flair of this talent goes a very long way in buffing this production to a fine sheen.
After a single listen, you could very easily find yourself agreeing that this album is one of the finer Latin jazz projects bajo el sol.
Posted by Ronald Jackson at January 4, 2009 6:14 PM