What We're Listening To ** January
J E F F * D A N I E L S
Kenny Garrett, Simply Said (Warner Bros. Records Inc., / WEA International) (1999)
Jeff Lorber, Heard That (Peak Records) (2008)
Pat Metheny, Water Colors (Polygram Records) (2000)
Pat Metheny & Anna Maria Jopek, Upojenie (Nonesuch) (2008)
Jamhunters, Music Speaks Louder Than Words (2008)

D E N I S * P O O L E
'Sweet Lady' by Tower of Power keyboard player Roger Smith from his solo CD Sittin In. Smith never ever disappoints and this slinky slice of sumptuous R & B shimmers with understated vocals from Derek Allen and Connie Law, wonderful sax by the superb Norbert Stachel and an unmistakable sample from Shuggie Otis's seminal 'Strawberry Letter 23'. One is left to ponder whether or not, if smooth jazz radio was playing more tracks like this would it really be in the trouble it is today?
'Come What May' by Najee from his 2007 album Rising Sun. Najee has, in his own jazzily smooth way, been making terrific music for over twenty years and this chilled out track is right up there with the best.
'Chill Or Be Chilled' by the UK's own Oli Silk from his brand new release The Limit's The Sky. Smooth jazz keyboard really doesn't get better than this and Silk's sensuous yet funky style marks him out as the natural successor to Brian Culbertson.
'Window Of The Soul' by Chuck Loeb. Originally from Loeb's current album Presence it can also be found on the 2009 smooth jazz sampler from KIFN 98.1 San Diego and is an absolute joy.
'Xmas In July' by Luba Mason from her soon to be released Krazy Love. Made yet more memorable by the excellent guitar of Sandro Albert this tender track is another huge step on Mason's journey into the world of sophisticated contemporary cross-over jazz.

P E T E R * B O E H I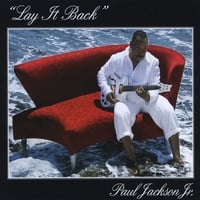 Paul Jackson, Jr. - Lay It Back (2008)
This is the latest solo release by guitarist Paul Jackson, Jr., independently released, but nevertheless providing some more great funky playing on the highest level and flawless production, featuring artists like Jeff Lorber and Bobby Lyle. Very recommended!
Fred Engler - Since Then 'Till Now (2008)
Composer/keyboardist Tom Engelr hails from Toronto, he went into the studio with some of the best local players and came up with this smooth jazz gem, saxophonist Andy Snitzer guests. Two thumbs up!
Jeff Hackworth - What A Wonderful World (1999)
Saxophonist Jeff Hackworth did this cooking organ-trio session in 1999, it features drums, hammond B3 and his soulful sax playing, I had a ball listening to these bluesy and funky numbers. A breath of fresh air!
Keith Marks - In It (2008)
Great funky flute sounds over a contemporary backdrop, with outstanding keyboard & piano solos by Ray Chew and a selection of classic material (like "Ain't Nobody" and "Ooh Child") make this one a winner. You will love it!
Bill Meyers & David Benoit - The Invitation From L.A. (1990)
Those two keyboardists and arrangers romp through a selection of hits of the day which is top notch due to the fact the very best of L.A.'s session players are part of this album. Hunt it down if you can!
Posted by Peter Böhi at February 2, 2009 7:45 PM