Here comes #10 for Patrick Yandall
I have to admit to a certain bias here, as I personally think that Patrick Yandall is one of the most polished and accomplished guitarists around (and I speak from the vantage point of one guitarist to another, although I'm sure we're miles apart in terms of overall ability and talent!). He wears smooth jazz like a well-fitting suit, and his clear, distinctly melodic sound clearly supports that view. As for his writing talents, we're talking solid pieces, well interwoven into the very fabric of his music. A New Day, his latest, whose scheduled release date is April 3, bears all the markings of yet another aural treasure.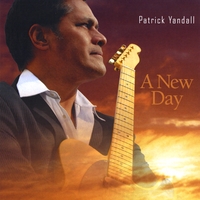 A New Day is simply loaded with shiny excitement right from the very start. The 1st and title track is most aptly named, as it's just right for starting a new day: Sunny, driving, and with purpose and direction. That's followed by the rocking, rhythmic "Urban Flight," a tune definitely designed for getting on your dance groove. Anyone who can sit through "Pistons Stomp" without giving in to—or at least fighting--the urge to get up and get the party started has to be made of some immobile solid substance, like a brick wall! Other tracks that follow are notably characteristic of this prolific author of 10 superb releases, each bearing its own signature.

It's perfectly alright, and has become acceptable to most jazzers, if an artist should opt to revisit in some clever way sounds or tunes from his or her earlier releases (and many have even embarked on a couple of CDs comprised largely of covers). However, what appeals to me most about Yandall is his ability to create something perfectly separate from previous work while staying rooted in a style that has defined him. His material is almost always fresh with new and exhilarating melodies, and one finds oneself anxiously awaiting the next tune or album because of this remarkable ability. Now, on A New Day, he approaches different styles that still suit his personal style. There are selections that may remind you of Earth, Wind, and Fire, the Isley Brothers, Larry Carlton, Carlos Santana, Fattburger, and various forms of funk—in fact, there are specific tributes to a few of these greats here. In the end, however, this is Patrick Yandall, in all his glory, recognizing those superb and different styles in his own very special way.
If you're like me, you like your smooth jazz with motion, definition, and something that stirs the soul as well as tantalizes the ear. Something slightly different from the last album you heard (by any artist)-- but not unidentifiably different--doesn't hurt, either, right? Well, that's what you get when you listen to Yandall. Here's another album without a single throw-away track, in my opinion. I don't know of very many albums about which I can say that easily, although there have been a notable few lately. At any rate, remember the release date for this one. You can thank me later.
Posted by Ronald Jackson at February 21, 2009 8:02 PM