Vance Taylor -- Long Overdue
This debut solo album by keyboardist/pianist Vance Taylor is of the stuff major infernos are made. This extremely well-produced project is simply hot, hot, hot, and totally laced with heavy, heavy, funk. After one listen, smooth jazzers everywhere will mutter "Where has this guy been hiding?" Well, he's certainly no newcomer, as he's played in the shadows for such artists as Cece Winans, Candi Staton, George Howard, and Toni Braxton, to name a few. Also, for those of you who've managed to keep up with stars who've earned a "home" on your "Memory Lane," Taylor has been a member of Maze featuring Frank Beverly for the past 5 years. Now, he comes forth to stand in the broad and bright sunlight of public view and dares to mesmerize with some of the boldest music I've heard to date on Long Overdue. Here are refreshing, new, and innovative compositions so rich in flavor that repetitive play is absolutely necessary to get one to the point where he or she can stop dancing and grooving long enough to simply wonder why this much great material has not emerged before now. No matter. It's here now.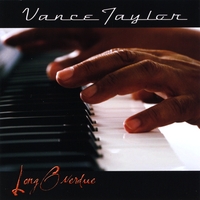 I've been fortunate enough lately to have heard a lot of premium smooth jazz, and Vance Taylor belongs to that elite group without any doubt. With a style and funkiness similar to keyboard wiz and former Tower of Power member, Roger Smith, Taylor is guaranteed to set any stage ablaze with nothing more than his marvelous material—no theatrics needed. As I've found myself saying over and over lately about some of these splendid productions I've heard, I challenge listeners to find one weak cut in this masterful batch of tunes. If you find one, please write to me and let me know which one and why. There! That's my dare for the month!

For the lover of artsy, dazzling tunesmithing, Taylor brings all you could possibly need and then some. The album opens with a very fine version of the classic Stylistics piece, "People Make the World Go 'Round" and offers one other tune not penned by Taylor ("Dirty Old Man"), then muscles through a set of bright originals worthy of much airplay anywhere.

Taylor's accompaniment is strong and serves as an amazing complement to these tunes. There are some very worthy and funky bass lines laid down by Jeff Smith and drums and percussion contributions from Marcus Williams, George "Spike" Nealy, and Stacey "Quick" Ellis. The crisp horn arrangements are actually provided by Taylor himself on synths, except for the classy sax work by Larry Jackson.
The hooks are incredibly clever and original, as evidenced by "See You in the Morning" and—what else?—"Off Da Hook." All in all, Taylor's stroll into the open sunlight was well worth waiting for. Find this gem at www.cdbaby.com and grab yourself a slice of smooth jazz at its most appetizing. I'm sure you'll agree: Taylor's emergence is truly long overdue.
Posted by Ronald Jackson at February 22, 2009 8:17 PM