Paul Jackson Jr - Lay It Back
Welcome to the latest issue of Denis Poole's Secret Garden, the page that offers a British perspective on the very best from the world of smooth jazz and classic soul. Almost six years have elapsed since Paul Jackson Jr. released the album Still Small Voice. It included his cover of the Motown classic, 'It's A Shame' that enjoyed an extended spell as most played on contemporary jazz radio and although since then his guitar skills have become an integral part of television shows such as American Idol, America's Got Talent and the Grammy Awards he is now firmly back in the spotlight with his brand new CD Lay It Back.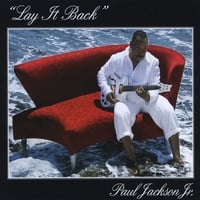 For Jackson Jr, the project is a culmination of eighteen months serious work. Not only has he produced or co-produced all fourteen songs but has also written (or co-written) ten of the them, added three superb covers and included the spine tingling 'Fourteen Til' that was written by keyboard player (and fellow American Idol band member) Dave Delhomme. With a stellar line-up of supporting performers that reads like a 'who's who' of contemporary jazz, the ingredients are all there for something very special. Indeed, from the first note of the opening track, the feisty 'The Workout', which he co-produces with Jeff Lorber, this is exactly what Jackson Jr delivers.
Rex Rideout lends a hand in co-writing and producing the sultry 'Hind's Feet' and the title tune, co-produced by Euge Groove's former bass player Cornelius Mims, proves to be the perfect showcase for Jackson Jr's jazzy playing. Equally compelling, and with a splash of Latin sunshine, '2 For 10,000' features the excellent Bobby Lyle on acoustic piano and Lyle sticks around to play a part in the delightfully turned down 'Ballad For Uncle Ronnie'. It's a number which quite simply is beauty personified and as Jackson Jr notches up the tempo for 'Bay Shore Drive' it gives him the chance (if one was indeed needed) to demonstrate he can do wonderfully tight smooth jazz as well as anyone today.
'Swing It' is funky in a 'full-on' Bootsy Collins kind of a way while in complete contrast, and as a demonstration of his versatility, the tranquil 'To Be Like Him' has a genuine Earl Klugh feel to it. Blessed by Patrice Rushen who adds her star quality on piano this magical cut is further enhanced by Alex Al on bass and an ultra-sophisticated horn arrangement from Earth, Wind & Fire's Ray Brown. Jackson Jr calls upon his son Paul Jackson III for the neat spoken intro to 'Hit It' which in turn enables them to serve up a terrific slice of atmospheric urban jazz whilst when he at last looks to the archives, Jackson Jr unearths 'Can This Be Real' that was a minor hit for The Natural Four in 1974. With vocals in the capable care of James Reese, and American Idol band members Herman Jackson and Teddy Campbell on keyboards and drums respectively, this welcome re-imagining of a quiet storm classic is in the good company of his take on the Lionel Ritchie blockbuster 'Easy Like Sunday Morning'. Co-produced by the always outstanding Jeff Carruthers it's a song that fits Jackson Jr's playing style to perfection and, in every respect, is a complete gem. Staying with the covers, although Jackson Jr adopts an initially restrained approach to his well crafted version of the Stevie Wonder hit 'Don't You Worry Bout A Thing', it's the fulsome horn backing that really brings the tune home. In fact Jackson Jr makes generous use of horns throughout and this is particularly so with another Jeff Lorber co-produced track 'Lucy The Cat'. The powerful yet understated brass section underpins the entire piece and makes it a real Secret Garden favourite
With six albums previously released by Atlantic and Blue Note Records, Jackson Jr. is excited about refocusing on his solo career with his own family-run label Branch Records. The title cut has already been released to radio and is sure to rekindle the smooth jazz stardom that Jackson Jr. has long enjoyed. Due to hit record stores across the USA on March 17 Lay It Back comes highly recommended.
Do you have any comments on what you have found in this edition of the Secret Garden? If so please e-mail me on DenisPoole2000@Yahoo.com.
Posted by Denis Poole at February 27, 2009 12:29 PM