JaR -- Scene 29
JaR's brand of contemporary jazz is unique and appealing in many different ways. Its Steely Dan feel, tone, chord phrasings, and stinging guitar riffs are quite polished and sophisticated. I remember shying away from the later Steely Dan material (post-"Countdown to Ecstasy" or maybe later) when I was regularly playing guitar because I found their intricate chords and techniques somewhat intimidating. I thought then: Nobody will ever be able to tap and emulate that sound! Well, judging from JaR's moving project here, Scene 29, I was apparently very wrong.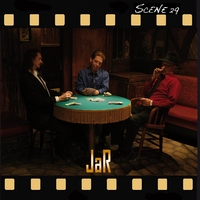 The witty and deep lyrics, coupled with chords reserved for serious jazz along with a jolt of the acidity of rock, make for a rather cerebral production of monumental proportions. This is the stuff a formal contemporary jazz student should be studying (and probably does!).
I have to admit that, when I first opened this CD and read the 2nd page of the liner notes, I was put off by what appeared to be a self-serving and very esoteric rant about "level wars" and the "over-compression" of music in the studio. How many average listeners really care about that?, I thought. Sure, musicians may get it, but are they the audience?? However, after listening to this quality product—while I still feel that the esoteric chatter was unnecessary—the feel of this one is spot on in terms of capturing the essence of the genre. Walter Becker and Donald Fagan must be impressed! Tunes like "Cure Kit," "Call Donovan," "Make Somebody" (a tune that reminds me of another cool artist, Raul Midon), the title track, and "GPS" convinced me that the snap, crackle, and pop of this style is alive and well, thanks to this superb duo. By the way, some may ask: Who are these guys? Well, let's look into that.
Among his many accomplishments over the years, guitarist Jay Graydon was once nominated by the Grammy board as Studio Guitarist of the Year. One of the most notable achievements for me is that he was also the soloist chosen over several other auditioning guitarists by Donald Fagen and Walter Becker for the legendary guitar solo on the tune "Peg" on the duo's "Aja" album. Ah, so that's why he seems so comfortable and familiar with the "Dan" sound!
Graydon played on practically every "A" list session in Los Angeles, acquiring a glowing reputation as an ace studio guitarist/solo specialist on numerous albums with all the major artists of the era, including the Motown luminaries such as the Miracles, Marvin Gaye, Supremes, Diana Ross, and on and on. He was voted the second favorite guitarist in the world by the readers of the Japanese music magazine, ADLIB. His 2006 solo album at the time, "Past to Present - the 70s," was ranked by that magazine as number 9 of the favorite albums.
Another major notable: Some may already know Jay Graydon as the key songwriter/producer for smooth crooner Al Jarreau during the '80s. That could surely raise a few eyebrows, considering the appeal of Jarreau then, as well as now.
As for Randy Goodrum, as a most prolific songwriter/producer, he has had songs recorded by such diverse artists as Phoebe Snow, Tammy Wynette, Gladys Knight, Earl Klugh, Alabama, Ray Charles, Chaka Kahn, and a multitude of others.
Goodrum has also performed on keyboards on hundreds of recording sessions with such legendary artists as Chet Atkins, Roy Orbison, Dionne Warwick, Steve Perry, Earl Klugh, DeBarge, Al Jarreau, Steve Wariner, and George Benson.
Goodrum's numerous awards include being inducted into the prestigious Nashville Songwriters Hall Of Fame in October 2000. He has also won dozens of ASCAP Songwriter and Publisher Awards for the many hits throughout his career.
So, you can see how beneficial and electrifying the union should be between these two. The evidence is already present in this debut product. Scene 29 should be the promising start of something that just may be quite a long and fruitful partnership, much to the delight of listeners.
Posted by Ronald Jackson at April 1, 2009 5:11 PM