John Swanson's "Rent Party"
Malindy Music, Inc. founder John Swanson—also the producer of this effort-- has turned out a quality product here in Rent Party with the help of veteran saxophonist Cal Bennett (who has played and recorded with Stevie Wonder, Dionne Warwick, and Donna Summer) and veteran multi-instrumentalists. Generally well-conceived and orchestrated, the R&B-flavored project should have broad appeal to smooth jazzers, who generally enjoy tight, crisp execution of smooth jazz as it is finely interwoven with this soulful element, anyway.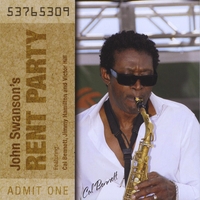 Rent Party wastes no time in pushing the funk-laden tracks at you in measured paces, starting with the competent and calling sax of Cal Bennett in the smooth-dancing opening track, "Can I Spend the Night," which includes some really decent harmony backing vocals from a number of apt vocalists including Cristi Black, Shea Chambers, Sandy Simmons, and others.
The album rolls effortlessly along, providing grooves to chill by, to whisper by, to love by. A case in point would be the steady "Swing It," a tune not big on bridges, hooks, and the like but huge on hitting that "spot" and providing that good ol' "that's it" feel. Track 3, "I Wanna Dance" is a gritty, very nastily funky, mid-tempo piece that also provides little by way of bridges, etc, but calls on the animal in you to get on the floor and burn it up with sheer sensuality. If slow and sweet is your thing, Cal Bennett's sax and the endearing backing vocals bring it home on "Johnny's Amour" with mellow yet pulsating spirit and depth. Wanna work up a sweat? Try "I Wanna Be Your Man." This one is on fire from the opening note and comes adorned with nicely arranged horns to complement the overall aura of funk.
As mentioned a couple of times, many tunes on this album seem to focus more on the continuity of the groove and feel than on any diversity of "twists and turns" in the compositions themselves (e.g., bridges, breaks, etc.). Many of the hooks that are present are a bit repetitive, but they work. The vocals—sometimes taking on a spiritual light-- often step in to really color the pieces in ways that bring brilliance to the forefront. "If You Only Knew" is truly representative of this. A tune that does offer both continuity and diversity might be the well-crafted "I Believe." Again, those quality backing vocals don't hurt at all!
Overall, this is an album very much worth its weight and does what it apparently set out to do: Partner the serious the urban R&B/funk groove with the cleverness and taste of smooth jazz. As I've said, it works. Check this out at CDbaby.com.
Posted by Ronald Jackson at April 11, 2009 5:10 PM