Tony McGhee--The Jazzy Side of Smooth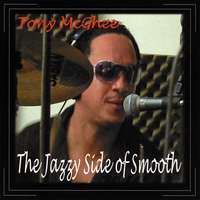 Last year, I wrote at Jazzreview.com about an up-and-coming drummer, Tony McGhee, his right-hand man, a heavy-handed funk bassist named Darryl Braswell, aka "Brazz," and their smokin' release, Who Is Tony McGhee? Anyone following my lead and picking up a copy of that album quickly and happily discovered the answer to that question. Well, to further elaborate on this artist's—and his cohort's—identity, the pair has just released a follow-up album, The Jazzy Side of Smooth, which keeps the groove in that slick, funk vein.
The bite and "phatness" of the bottom-heavy tunes here are quite prevalent. After a brief and interesting "Intro," the project comes out of the starting gate with a smooth and snappy little piece called "Come On Let's Ride." This overall "ride," by the way, gets quite interesting very early on as, on its heels, comes the tight, slinky, and funky "Bounce," surely to appeal to all those sexy ladies who love to take their time strutting their stuff on the dance floor in that oh-so-deliberate, seductive fashion. That's a visual that's simply commanded by the piece.

Other funksters include "Lil' Heartbreaker," "Brazztone" (hmm…wondering how they arrived at that title?), and "Cha Cha Momma" with its catchy vocals and hook (I just wish this one had been longer. It's quite an addictive groove and is my fav here). These are just the tip of the iceberg, as the album struts tasteful funk throughout.
The Jazzy Side of Smooth is not only laced with good, solid funk, it's well-written and contains very tasteful melodies, runs, and quite decent vocal harmonies. It's a consummate piece for the jazz funkster who likes his/her material with teeth. The Jazzy Side of Smooth is available via CDbaby.
Posted by Ronald Jackson at May 25, 2009 5:49 PM