Jason Weber--5
Jason Weber is one of those cool, smooth saxmen who can pour out funk, attitude, and polish all in one note. Five is the latest undertaking by this artist who now has--you guessed it--five albums under his belt, each with its own personality.
I first learned of Weber a while back, just after the 2002 release of his funky Something Blue album. I was so impressed then that I dashed off a note of personal congrats to him (I don't even think I had started reviewing CDs as a contributing editor or staff writer for any site then). It certainly gives me great pleasure to report here that the man still "has" it and simply lays on the line all of his fine smooth, funk, and bluesy touches, just as he did "way back" in 2002.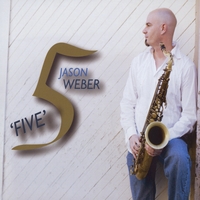 Over the years, Weber has established himself well and competent enough to accompany such artists as Gerald Albright, Nathan East, Everette Harp, and Steve Ferrone (who appears with him on this latest endeavor). Still, I think he is long overdue for the personal spotlight he deserves, as is evident in this satisfying production.
The opening track, "U Know U Like It," is a mid-tempo funk groove that gets the motor started on this quality album. Its melody, body, and call to the individual soul of smooth jazz are most evident and becoming. It's followed by a mellow, tastefully soulful piece called "For The Children." Something about this tune makes its title so very appropriate. It seems so befitting the love and protectiveness that parents and others should feel for the little ones. That may be a lot to read into a track without lyrics, but I certainly would find it easy to set words to this piece that would reflect such sentiment.
As you will quickly note with track 3, "La Isla Bonita," Weber can turn a mean Latin melody, as well. In fact, this is probably my favorite track here. Very rhythmic and alive with all of the exoticism of a Latin island, dancing yourself away to such a peaceful setting with this one shouldn't be hard at all.
"Some Day" is a tune that especially hints at the soulful stylings of veteran saxman Richard Elliot (in fact, you'll find a lot of similarities between the two artists in a few other instances, though there are also very distinct differences, to the credit of each). In addition, Weber's apt handling of Santana's "Europa" at track 9 and Desiree's "You Gotta Be" at track 10 are sure to catch and keep any listening ear, and what would a Jason Weber album be without a parting nod to some good ol' jazz funk as classily displayed on the finale, "D-Funked?"
Weber has obviously devoted himself to stylish compositions that help shape him as a complete jazz entity to fully appreciate. Five goes a long way in helping with this objective. Visit CDbaby.com and give it a listen. It's good quality stuff that may well work for you as much as it did for me.
Posted by Ronald Jackson at June 12, 2009 10:54 PM