P E T E R * B O E H I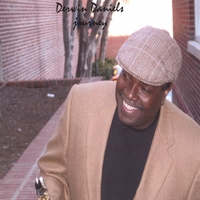 Derwin Daniels - Journey (2007)
Saxophone player Derwin Daniels delivers a really smooth instrumental album full of catchy melodies and contemporary grooves, well produced and well played, definitely worthy of your time. Check it out!
Bohm Witman Project - My Funny Valentine (2008)
Trumpeter Jim Bohm and saxophonist Ken Witman present their debut CD, a groove-oriented acoustic jazz recording with spirited soloing and a good selection of material, they even tackle "Funkin' For Jamaica". Very recommended!
Dirk K - Dirk K Plays Jobim (2008)
Guitar player Dirk K dishes up some mighty fine acoustic guitar playing interpreting the music of Brazilian composer Antonio Carlos Jobim, the gentle bossa tunes in a contemporary jazz setting are a breath of fresh air.
Jamhunters - Music Speaks Louder Than Words (2008)
This great band hails from Copenhagen and comes up with a polished, groovy and ultra-cool contemporary jazz album with lots of chill/lounge elements, the band is fronted by Peter Michael on keys and Lars Fabiansen on guitar who deliver some outstanding solos. Thumbs up!
Rodney Franklin - You'll Never Know (1980)
Going down memory lane I would like to point out this beautiful album by keyboard player Rodney Franklin that has become a true classic, the track "The Groove" is one of my all-time favorites, it has been released on CD (along with "In The Center") so get it and be delighted again!
J E F F * D A N I E L S
Tom Scott, Cannon Re-Loaded (Concord Records) (2008)

Jessy J, Tequila Moon (Peak Records) (2008)

Dee Brown, No Time to Waste (Nu Groove Records) (2007)
Afro Elements, It Remains to Be Seen (Freestyle) (2008)

Bob Baldwin, NewUrbanJazz.com (Nu Groove Records) (2008)
D E N I S * P O O L E
J O N A T H A N * W I D R A N
Chris Standring, Love and Paragraphs
Brian Culbertson, Bringing Back The Funk
Mindi Abair, Stars
Jessy J, Tequila Moon
Michael McDonald, Soul Speak.

B E V E R L Y * P A C K A R D
Gerald Veasley, Your Move, 2008
Rippingtons, The Best of the Rippingtons, 1995
Chieli Minucci, Slice of Life
Gil Parris, Strength
Wayman Tisdale, Way Up
B R I A N * S O E R G E L


Brian Culbertson, Bringing Back the Funk (Verve)
Chris Standring, Love & Paragraphs (Ultimate Vibes)
Sam Barsh, I Forgot What You Taught Me (RazDaz)
Gerald Veasley, Your Move (Heads Up)
Lawson Rollins, Infinita (Infinita)